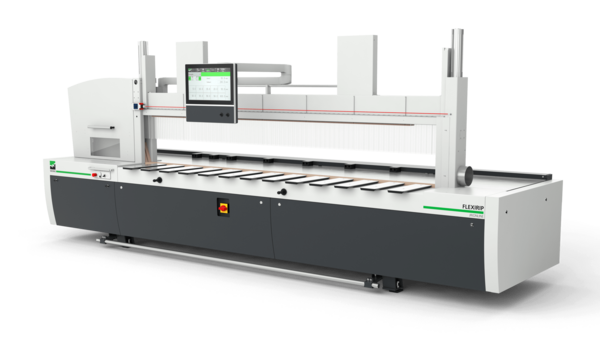 When it comes to cutting planks, boards and panels, the FlexiRip has established a reputation as an efficient and flexible longitudinal circular saw. Customers particularly appreciate the high levels of flexibility, the optimal wood recovery and the one-man operation. In addition to solid wood, a range of other materials can also be cut, including plastic, aluminum and a variety of panel types. The FlexiRip's cut length and usable width is harmonized with its workpiece dimensions. Operation is simple: Lay and align the workpiece on the machine table and initiate cutting via the pedal! When the pedal is released, the saw blade dips and returns to the start position. The cutting feed can be continuously and finely adjusted from 0 – 80m/min.
High production output, even with extremely hard materials
High cutting accuracy and optimum material yield
Quick saw blade change
High operational safety
Precise positioning stop
Can be integrated in cutting systems
The FlexiRip longitudinal circular saw is the ideal machine for a wide variety of applications: Longitudinal cutting, cross-cutting, diagonal cutting, miter cutting, cross sections and package cutting - all with one machine! With cutting heights up to 210 mm, the FlexiRip offers outstanding flexibility for all operational requirements.
The OptiCut C 700 Flexi cross-cut saw makes the FlexiRip a modern cutting line. The result is an efficient one-man solution for cross sections and longitudinal cutting. The OptiCut C 700 Flexi is mounted on guides and can easily be set to the required depth according to the width of the workpiece. This concept creates efficiency as well as significant savings on space.