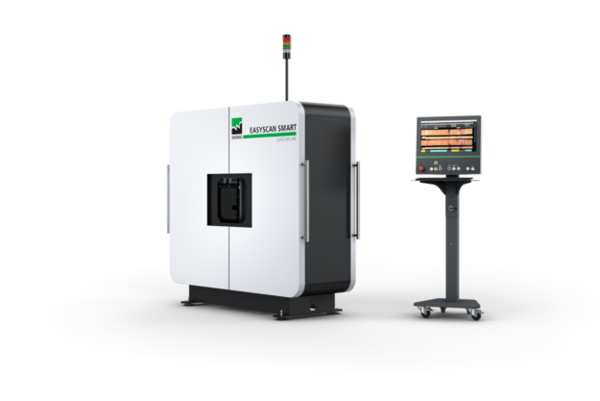 In advanced woodworking, the automation of defect detection is the key to efficient, high-performance production. An upstream scanner is a key component of the entire system. The EasyScan Smart C detects wood defects (such as knots, wane, holes, etc.) on softwood and hardwood at lightning speed and feeds one or two optimizing cross-cut saws at full production speed. Together with OptiCore software, the EasyScan Smart C not only brings completely new optimization opportunities to your production, but also offers maximum production control and transparency in your manufacturing process at a low price level. Its compact design allows it to be used as an upgrade for existing and new lines. From small entry-level systems to large production facilities - the EasyScan Smart C is a reliable partner.
Relevant wood data on all sides with laser and color cameras
3D lasers capture and visualize workpieces
OptiCore AI supports defect detection on the most common types of wood and optimizes the yield
Angle Crack Module (ACM)improves detection of oblique cracks
Dual scatter enables fiber analysis and ensures superior cutting accuracy
Automatic camera adjustment
The EasyScan Smart C was specially developed for cross-cutting applications. The scanner can be upgraded with multiple options for different requirements, offering optimal flexibility. Choose the type of optimization, define complex products and link the scanner directly to your networked production: This way you are clearly ahead of your competitors!
The EasyScan Smart C provides
OptiCore AI software with artificial intelligence
OptiCore AI is an intelligent image processing software that uses deep learning, a class of neural networks from the field of artificial intelligence, to recognize the wood features. This method can significantly improve recognition accuracy as the software learns to process images like a human brain. With OptiCore AI, the scanner can be trained to automatically analyze and detect wood defects according to predefined parameters. The results and their repeatability are thus significantly improved and the setup time is reduced.
Step 1:
The scanners are based upon various sensors, such as laser and color cameras. Your WEINIG expert defines the right sensors and the best combination of these, matched to the wood species, surface quality and customer requirements. Our objective is to achieve the best possible quality of information for any required application.
Step 3:
Optimization via the high-performance OptiCore software calculates the best solution during cross-cutting, ripping (not available in all scanner models) and sorting. In doing so, it takes into account the various customer requests and requirements. Based upon the precise board data calculated during image processing, the board is optimized in accordance with the defined requirements. This allows a virtually unlimited number of qualities and products to be defined. This means that even a complex product mix can be ideally optimized to produce almost any type of end product.